We are delighted to announce that we are now ISO 9001, 14001 and 45001 approved.
In recognition of our sustained effort to manage our environmental impact, Argus has achieved ISO14001 certification for its Environmental Management System and ISO 45001 certification for its Occupational Health and Safety Management System. Prior to these certifications, Argus is also certified under ISO 9001 for Quality Management System.
These certifications demonstrate our commitment to environmental management, occupational health and safety management and quality management respectively. We take pride in our ability to provide our customers with the peace of mind that comes with knowing that our company operates in a responsible and sustainable manner.
>>> View the certificates in our website  <<<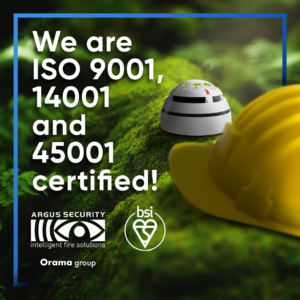 The ISO 14001 standard covers the implementation of an Environmental Management System (EMS), focusing on the company's impact on the external environment. The EMS is intended to reduce our company's waste, pollution, and energy consumption.
The ISO 45001 standard, instead, requires an Occupational Health and Safety (OH&S) Management System and focuses on the company internal environment. We set out a framework for managing health and safety responsibilities, aimed to prevent work related injury and ill-health.
The ISO 9001 is the most widely known and internationally accepted standard for quality management. This certification ensures that our products and services meet the needs of our clients and the regulatory requirements through an effective quality management system.
Argus has passed the comprehensive audit conducted by BSI, and obtained the environment, occupational health and safety, quality management system certifications.
Argus is dedicated to shaping a safer world through innovation, providing a healthy and safe work environment for employees, contractors and visitors worldwide and ensuring the minimal impact of its activities on the external environment.